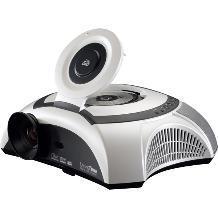 DVD Projector Rental
The DVD player is already built into this projector. But you can still hook up your game system or computer and project your image onto a wall or our inflatable or popup movie screen. This
projector rental is perfect for home theatre applications, movie nights, or theatre in the garage/yard.

Works well with one of our projection screens.

Depending on the size of your crowd, you may need an external sound system. We have those too.
****Unless otherwise arranged, customer pickup for this item will require a larger security deposit than other items.