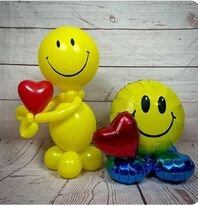 Adopt-A-Grandparent
Introducing our Adopt-A-Grandparent Program
Let's Spread Joy, Love & Smiles to
Villa of South Holland
10 MONTHS!
That's how long many of our seniors have been isolated from loved ones.
IMAGINE THE LONELINESS!
No Handshakes! No Hugs! No Kisses!
No Regularly Scheduled Outings!
Only Socially Distanced Visits
Chicago Party Place is proud to be joining the nationwide #AdoptAGrandparent movement. In an effort to spread smiles at local senior living facilities, our goal is to send EVERY resident at Villa of South Holland, a Balloon Buddy with a message of love and hope! You can adopt as many Balloon Buddies as you'd like. They are $20.00 each (tax included).
Your order includes the following:
Table top Balloon Buddy, featuring an all latex body holding a heart..

**

An uplifting note of encouragement.

Colors will vary based on availability.

Balloon Buddy stands approx. 28" tall and will easily fit on a table/desk/dresser.
**(Foil balloon arrangements for those with latex allergies).
Large Sponsorship Bonuses:
If you adopt an entire Assisted Living Community of 40 or more residents: Chicago Party Place will put your company logo on the gift tag that is attached to the Balloon Buddies. You will also receive social media recognition. Your selected community will move to the top of the list. We will also deliver a special thank you balloon design to you or your business..
We are SUPER excited that this is also part of a nationwide initiative with other balloon pros so we can spread love across the country. #LiftThemUp #SpreadLove
Once our goal is met, we will assemble and deliver the Balloon Buddies to your adopted grandparents. Upon conclusion, we will select another assisted living community, at which, to spread smiles. If you know of an assisted living facility, with smiles need brightening, let us know.