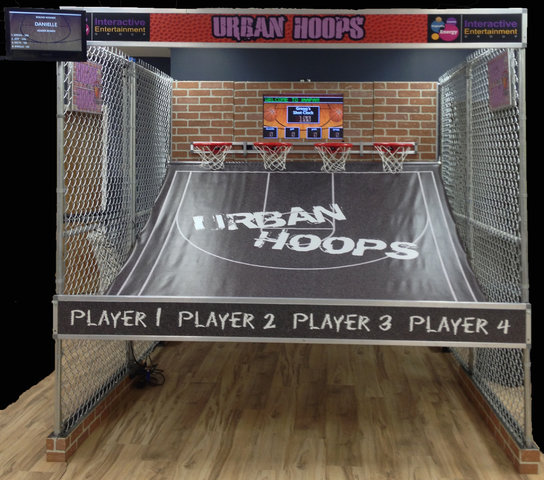 Urban Hoops Basketball Game
Actual Size: 8x9
Setup Area: 8x9
Outlets: 1




Urban Hoops is a inner city park inspired basketball game gone hi-tech.
The game is enclosed with authentic chain link fencing. The backboard is made to look like the side of a brick apartment building. Our high tech LED flatscreen scoreboard is built into the backboard. The vinyl ball return is printed asphalt with court chalk lines. All graphics on scoreboard can be customized including the background image and two places for logos or photos. Music is queued to play themed tunes.

Our software for the score board has two modes. Tournament Mode & Carnival Mode.

Tournament Mode:
Four players face off to see who advances in the final four tournament. Each player has their name entered into the computer interface and their names show up on the LED scoreboard. Also you can customize the name of the shot clock (timer) (Budweiser's Shot Clock or Arielle's Shot Clock) They have 60 seconds. Their score will advance digitally with the authentic looking scoreboard. They'll get 3 points when there is 15 seconds left. At the end of game the buzzer goes off and a winner is declared on scoreboard and if they are in the top 10 scores of the night they go on the top ten list that displays between games and on a separate monitor constantly.

Carnival Mode:
Urban Hoops takes two proven favorites. Basketball and race type games where you compete against other players. like roll-a-ball horse race and balloon races. Our carnival mode combines the two. Attendant checks players into the computer interface so their basket is activated. 5 Second countdown and buzzer sound off. On LED screen built into backboard each player has his own animated avatar basketball player dribbling a basketball (that can be changed for logos) that is advancing toward their on screen basket, every time a players basket is scored. When their Avatar reaches basket he stuffs the ball in and that numbered player will be declared winner for a prize. The amount of baskets to win is adjustable in the interface but generally the first to score 10 to 15 baskets.

***Tenting required for outdoor usage.***
Pricing shown is for the 1st two hours. Each additional hour is $200.